← Back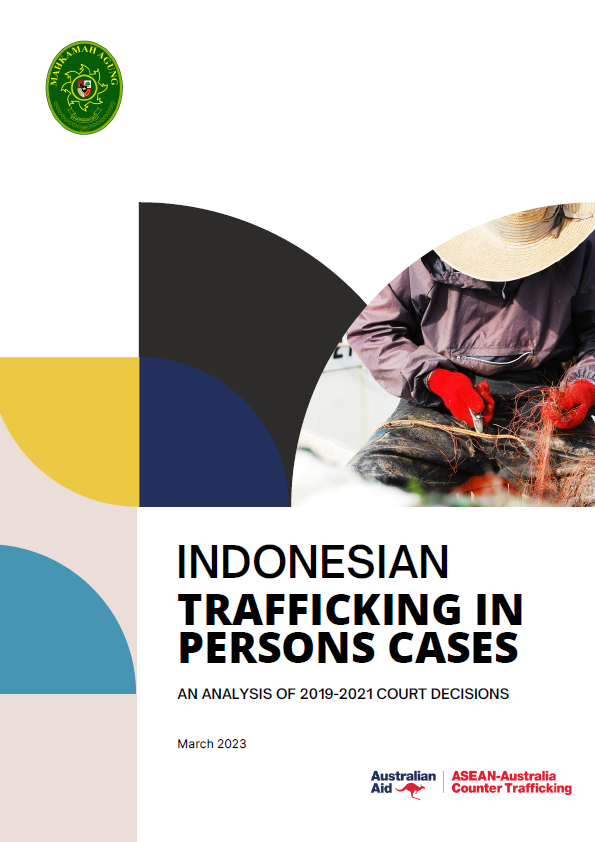 Indonesian Trafficking in Persons Cases. An Analysis of 2019-2021 Court Decisions
The ASEAN-Australia Counter Trafficking (ASEAN-ACT) partnership is a 10-year initiative funded by the Australian Government that helps ASEAN Member States fulfill their obligations under the ASEAN Convention against Trafficking in Persons, Especially Women and Children (ACTIP).
To implement the ACTIP, national trafficking data needs to be collected, analyzed, and shared. This publication tries to evaluate the effectiveness of their efforts and respond to emerging patterns of human trafficking cases.
ASEAN-ACT has developed a set of 8 Victim Sensitive Court Indicators and TIP Data Indicators to provide informed decisions about legal proceedings. The partnership supported the  Supreme Court of Indonesia in using these indicators to analyze TIP decisions made in 2019-2021 and formulate key findings.
The key findings will help improve court experiences and outcomes for TIP victims by informing the development and refinement of policies and procedures, identifying training needs of judges, and establishing an evidence base and narrative for reporting on TIP cases.
This decision analysis is possible because of the commitment of the Supreme Court of Indonesia to publish millions of its decisions on Direktori Putusan. The findings from the analysis will be compared with subsequent decision analyses in 2025 and 2028 to assess whether court experiences and outcomes for TIP victims have improved over the ten years of the ASEAN-ACT partnership.