← Back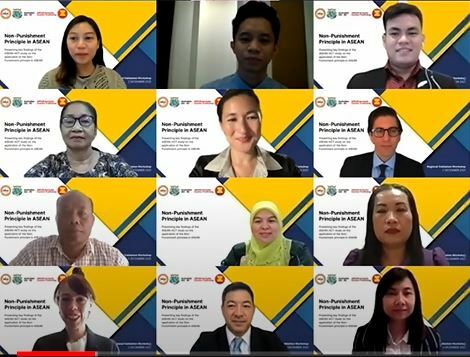 Non-Punishment Principle Study – Regional Validation Workshop
The principle of non-punishment of victims of trafficking is critical to victim-centred and human rights-based response to human trafficking.
At its core, the non-punishment principle is aimed at ensuring that a victim of trafficking is not punished for unlawful acts committed as a consequence of trafficking. Fear of prosecution and punishment deters victims from seeking protection, assistance and justice.
Punishment of victims also undermines the fight to combat impunity for trafficking in persons, given that it targets victims rather than perpetrators, limiting both the effectiveness of investigations and the promise of accountability.
On 2 December 2021, the ASEAN-Australia Counter Trafficking (ASEAN-ACT) program with the support of the Senior Officials Meeting on Transnational Crime (SOMTC) Philippines and ASEAN Intergovernmental Commission on Human Rights (AICHR) Indonesia, convened a regional validation workshop to present the key findings of a Study conducted by ASEAN-ACT International Law and Policy Adviser, Dr Marika McAdam. The Study was conducted from May to August 2021 and engaged ASEAN legal practitioners from both government and non-government stakeholders.
United Nations Special Rapporteur on Trafficking in Persons Professor Siobhán Mullally delivered a keynote Speech on "Application of the Non-punishment principle to advance States' Obligations to Protect Victims of Trafficking", highlighting the paramount need for implementing non-punishment principles in every stage of counter-trafficking efforts.